If you're having a cookie baking party – or a cookie exchange – party, take a look at the fun invitations, recipes and ideas we've found for to help make your party a holiday hit!
First, let's take a look at some of the creative Cookie Exchange and Cookie Baking party invitations. From simple to elaborate, you're sure to find a sweet design to fit your needs! Best of all, these are all editable! So you can easily change the wording to fit your party.
1. Holiday Cookie Exchange Invitation by AdorePaperCo
2. HOLIDAY COOKIE DECORATING PARTY Invitation by Anastasia_Designs
3. Festive Christmas Cookies Cocktail Party Flyer by themeparties
4. Cookie Exchange Holiday Party Invitation by PaperandPomp
5. Christmas Cookie Swap Homemade Cookies Invitation by Anastasia_Designs
6. HOLIDAY COOKIE SWAP Cookie Exchange Party Invitation
by Anastasia_Designs
7. "Oh Snap!" Gingerbread Cookie Christmas Party Invitation by colleenmichele
8. Christmas Cookie Decorating Holiday Party Invitation by beckynimoy
Rolling pins, recipes and reindeer!
Once you've decided on the party theme, it's time to get your ingredients – and recipes – ready. If you're having a baking party, you'll definitely need to invest in a good rolling pin to get started. You can even go further if you'd like a patterned design for your cookies. Check out this wonderful rakia rolling pin with reindeer patterns and Christmas trees.
Next you'll need a variety of cookie cutters.
Then find your perfect recipe – from your family favorite recipe book – or of course from the tons of great recipes on the web! You can find traditional gingerbread recipes, vegan recipes, easy recipes, or just get a mix and make it super easy!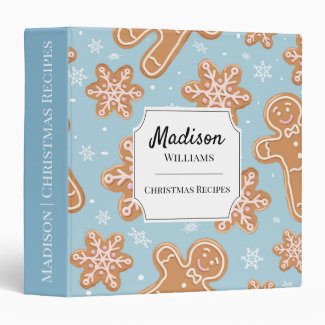 Extras for your cookie party!
Of course a super cute baking apron is in order 🙂
You can also take the design you love and add it to other products. For the baking party, you can also order gingerbread stickers, napkins, plates, placemats, ribbons, stockings and even a gingerbread cookie ink stamp! We took the "OH SNAP" design and added it to a plate for Santa. Your kids or grandkids will love having their very own personalized plate.
Fun Party Ideas
If you're having dinner at the baking party, keep it simple! Order some sub sandwiches or a few extra large pizzas to take the hassle out of feeding the crowd.
You could also host a Christmas cookie challenge – just like our friends on the Food Network channel. Team up in groups of two or three and each team presents their tasty and decorated cookies. Make sure you have a ribbon or trophy for the winning team. You'll also need an impartial judge – which could be a challenge in itself!
A cookie exchange party is also fun! Each guests brings a supply of cookies and you get to mix and match! Here's a great how to resource for hosting an exchange party.
After all the guests have brought their cookies to the exchange, you could end up with a wonderful selection.
Cookie Takeaways!
And at the end of the party, make sure you have plenty of treat bags to dole out the variety of cookies to the guests. I love these personalized stickers that you can add to your cookie bags. So cute – and so easy to customize 🙂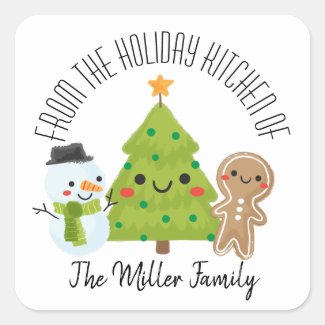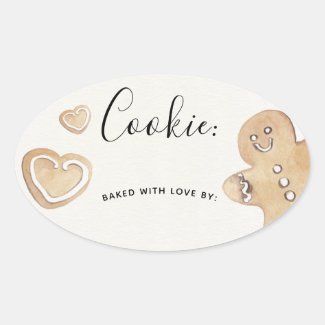 How cute is this? This favor box is decorated like a gingerbread house – love! These would be fun for your guests to take away their share of the sweets.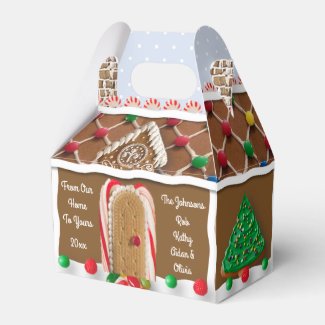 Ahhhh … be sure to enjoy the party! Just like this gingerbread man is enjoying his time in the hot chocolate, you need to relax and enjoy the time together with friends and family.
So no matter what your skill level – beginner, intermediate or advanced – you're sure to have fun and create lifelong memories with Christmas cookie parties!
Need more ideas for your party? Contact us to get started!