Let's hang out with the sloths! Kiddos everywhere are loving sloth themed parties. Whether it's their first birthday or their 10th, your daughter or son will love the fun and sweetness from birthday sloths.
Sloth themed cakes, cookies and cupcakes!
I love this party cake idea from Target 🙂 There are step by step directions for creating this super cute sloth cake.
Here's another adorable sloth cake ready to order (as long as you live in England:) If not, you can use this as inspiration.
Check out these cute as can be sloth cookies from nummie num custom cookies.
How cute are these party cupcake sloths? With their hats, balloons, bow ties and sprinkles, they look ready to party!
Sloth Theme Birthday Party Invitation ideas 🙂
We found hanging sloths, party hat sloths, upside down sloths and "wild ones" for your son or daughter's first birthday.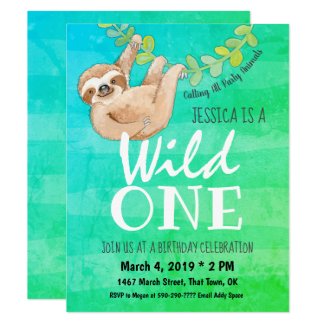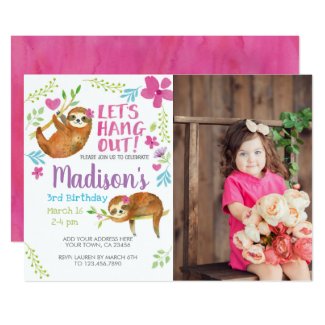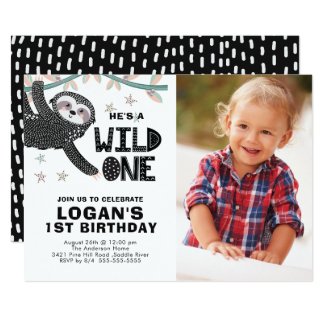 Cute "Let's Hang Out" party invitation featuring a hanging sloth with cupcake and colorful banner.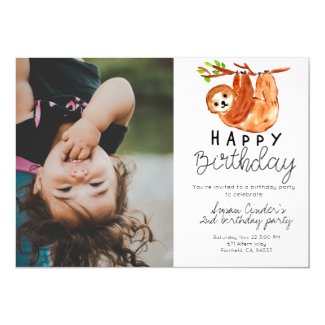 Here's my take on the sloth design with complete party accessories. I created paper plates, napkins, party hats, confetti, thank you tags, envelope liners and more! This design set is also available in blue. If you need any thing else in this design, just let me know!
Sloth party decoration ideas!
What better way to welcome guests to your party with this super easy to customize sloth welcome poster.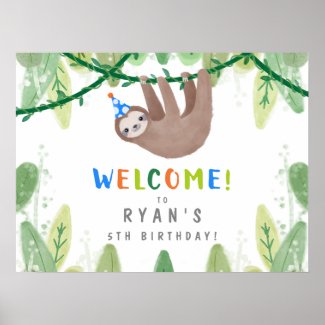 Need a custom backdrop? Here's the perfect sloth party theme banner for your party. Easy to add your daughter or son's name and birthdate.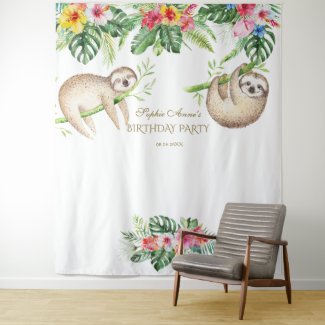 Check out this adorable sloth! After he makes his debut at the party, he would make a great decoration for a toddler's room and it's practical too! Inside, you can hide a hot water bottle heater, a favorite blanket or pillow or any number of ideas.
Crafty diy ideas for your sloth themed party.
Crafty ideas from Target show you how to create jungle branches out of brown craft paper. Add a couple of hanging sloths, few jungle leaves and the party is about to get slothy!
Here's a fun kraft idea for the kiddos at the party – they can each create their own sloth mask. Or you and your child can create ahead of time for table decorations. They also double as party favors that the kids can take home. Get the directions and the free templates here.
Here's a cute free DIY sloth template to decorate for your sloth party – courtesy of cleverpatch.com. Looks pretty simple too! Paper, scissors, glue, brads and a green string. The kids would love to color these too 🙂
If you're the crafty type, you can create your own tropical leaves for the party with squares of green paper. Complete step by step directions are shown here from Red Ted Art – with an easy to follow video included 🙂
Here's a cute little sloth that can decorate your party – sit her on straws, plates, tropical leaves and more. You can find this – and more party decorations – free 🙂
My great grandmother used to love to crochet – and would have loved this pattern. If you're the crocheting-crafty type, you can pick up the pattern here along with some tips here for this adorable sloth. This little guy is holding back a curtain – but your creative eye can find many places to make this sloth stand out at the party!
If you're not that great at crafting – or just don't have the time – you can purchase pre made leaves and scatter on the table and hang from the ceiling.
Fun game ideas for your sloth birthday party!
Who doesn't want a fun sloth tattoo? These cute, temporary tattoos are a great way to entertain the kids! Easy to customize with your daughter's name and age.
Do you know how to pull some strings? Have a puppet show featuring your very own puppet party sloth. Puppets have always been kid pleasers – and this guy is sure to entertain!
If you're feeling adventurous, add some fun sloth slime from TiniSlime on etsy. Kids can spend hours playing with slime – just add some sticks and leaves and start your jungle party.
Looking for a super easy sloth party idea? Just download and print out our free sloth "Let's Hang Out"coloring page and give the kids a box of crayons or colored pencils. So easy – and so fun!
The Sloth Conservation Foundation!
If your child is a bit older, he or she may want to spread the word at the party about the Sloth Conservation Foundation. Sloth populations are in decline throughout South and Central America as they struggle to adapt to the urbanization of the rainforest. Saving these sloths from extinction requires fresh thinking and long-term solutions. The Sloth conservation Foundation has programs that help achieve this mission. Check out the 8 perfect gifts for sloth lovers – proceeds go back to the charity!
Thanks for hanging out! You can get your own cuddly sloth here for the party. If you've had a sloth themed party – or looking to have one – I'd love to hear your ideas! Just leave me a comment below.
And – if you need a custom birthday design for your kiddo's party, just let me know. I'll be glad to work with you to make your vision come true 🙂